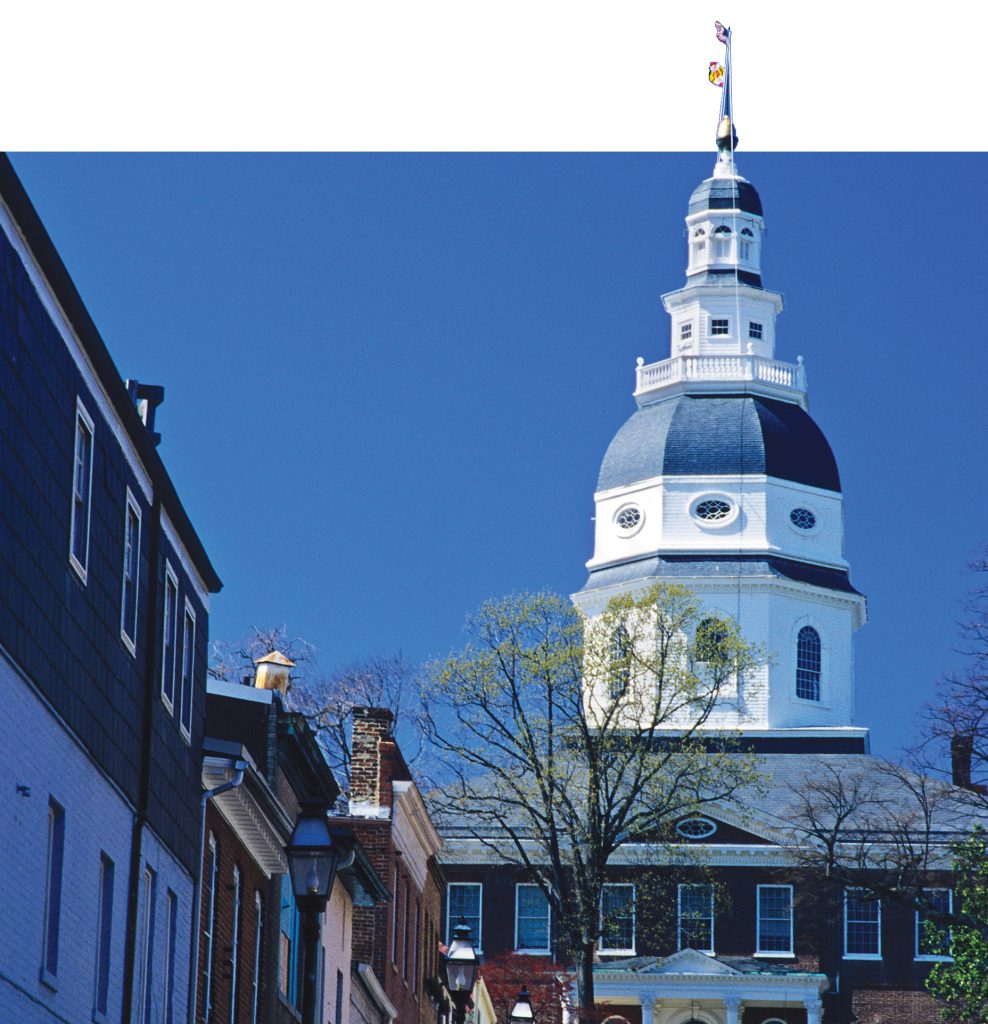 What the 2022 General Assembly session means for educators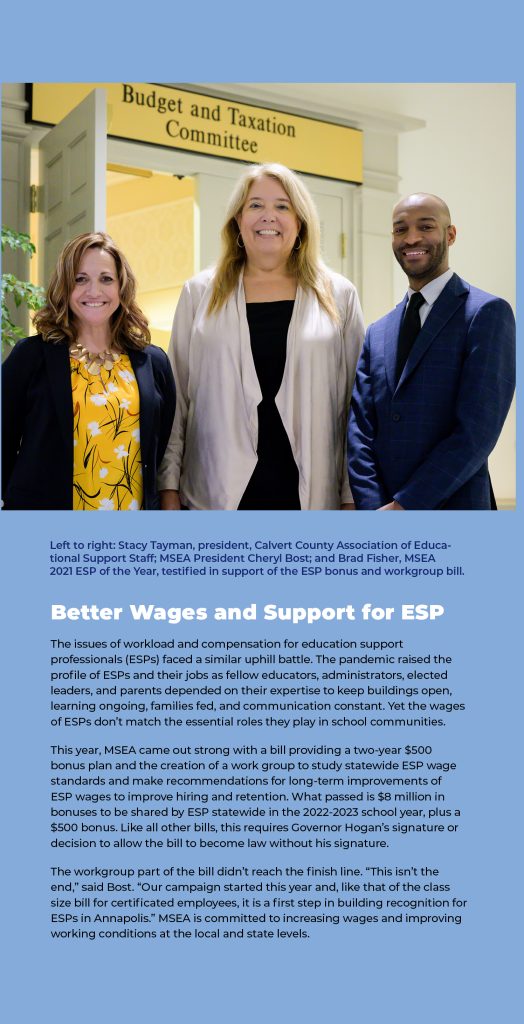 This session of the General Assembly continued the work of short- and long-term recovery from the pandemic and reinvigorated support for schools, students, and educators, driven by Maryland's Blueprint for the Future and its promise to improved staffing, salaries, emphasis on recruitment and retention of all educators, and expanded student programs.
MSEA members and lobbyists worked hard throughout the session to make progress on several fronts, including holding Governor Hogan under fire to legally and fully fund public education, winning a victory over discrimination, advocate for honest and accurate education, and shine a light on workload issues faced by all educators, from instructors and paraeducators to school counsellors, maintenance staff and bus drivers.
The budget
During this legislative session, students, schools and educators were the victims of a mad budget race that saw Governor Hogan reinstating $140 million in funding for the Blueprint for Maryland's Future required by the law but absent from its initial proposed budget. The Governor's failure in his final budget to fully fund the Blueprint was a demonstration of his continued refusal, despite a historic billion-dollar surplus, to give all students the opportunity to pursue their dreams by funding high-quality public education. quality.
Despite this, and thanks to the work of legislators and a huge budget surplus, $800 million was budgeted this session to fund the critical years of the Master Plan, including the promised increase in staff, salaries, community schools, student supports and vocational and technical education. expansion. Other Blueprint-related programs included in the final budget include:
$8.4 million for leadership training, model state curriculum and instructional materials, and college and career readiness program study
$2.9 million for teacher training for National Board certification
$2 million for behavioral health training for teachers and expert teams
This is a great victory for students, schools, educators and communities who can witness the transformational change that MSEA members and education champions have long been fighting for. "We kicked things off with internal studies on critical issues and the fight for the casino's long-pledged education funds. We continued with the March for our schools and participated in the Kirwan Commission. Steadfast determination has gotten us to this tipping point," said MSEA President Cheryl Bost. "Now is the time to focus on implementing the Blueprint's groundbreaking policies and programs in every school district so that students of all races, backgrounds, and zip codes have a great public school in their neighborhood." Learn more about the Blueprint and what it means for you and your students here.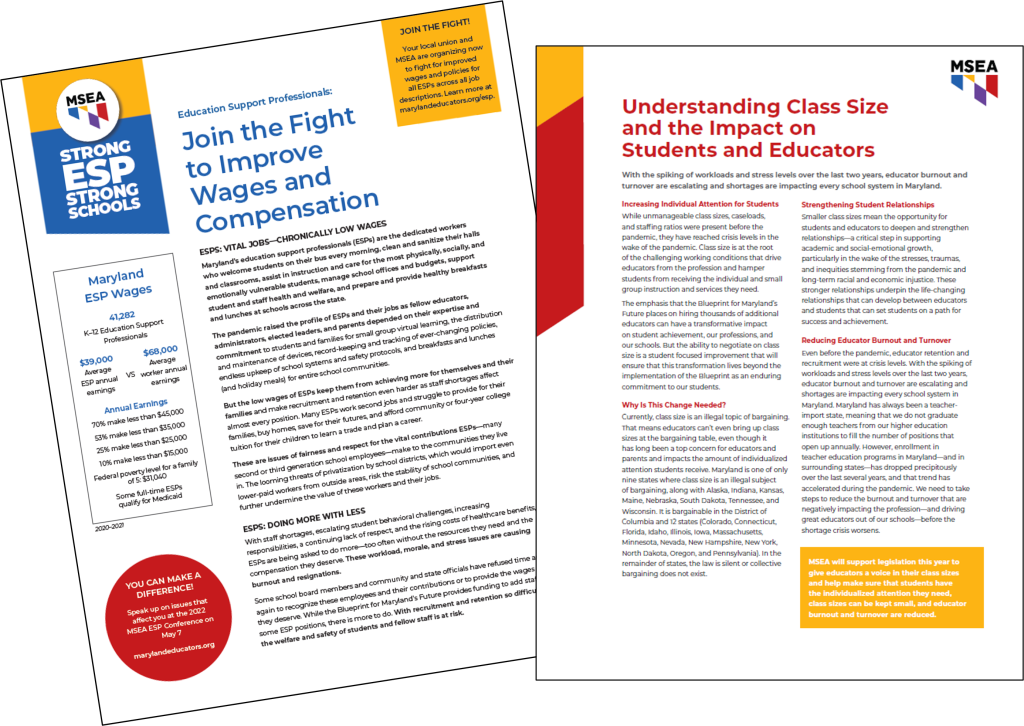 Fight for a balanced workload
While class sizes, workloads, and staffing ratios were unmanageable before the pandemic, they reached crisis levels in the wake of the pandemic. Educators know that class sizes are the root of difficult working conditions that drive educators out of the profession and prevent students from receiving the individual and small group instruction and services they need. The MSEA has received hundreds of comments from members about their unsustainable class sizes and the difficulty of reaching every student, grading every paper, as well as the overcrowding and workload issues they face every day.
The ability to negotiate class sizes at the bargaining table would be a student-focused improvement – reasonable class sizes mean more and better teaching and learning, and space and time for learning. small group instruction that we know is essential for so many students. But bargaining over class sizes is currently an illegal bargaining topic in Maryland, one of nine states where it is.
Efforts by MSEA members to win the right to negotiate class sizes have failed this year, but the learning curve for lawmakers has been steep. As we mount an ongoing campaign into the next year, we will continue to educate lawmakers and build on this year's advocacy to bring this bill closer to the finish line, and eventually cross it.
Anti-discrimination and honest education
Finally, reason and humanity prevail in successfully passed legislation that prohibits local school boards, public K-12 schools, and private K-12 schools that receive funding from the state to deny enrollment, expel, deny privileges, or otherwise discriminate against a student based on race, ethnicity, color, religion, sex, age , national origin, sexual orientation, gender identity or disability. It also protects a student, or a student's parent or guardian, from retaliation for a complaint of discrimination.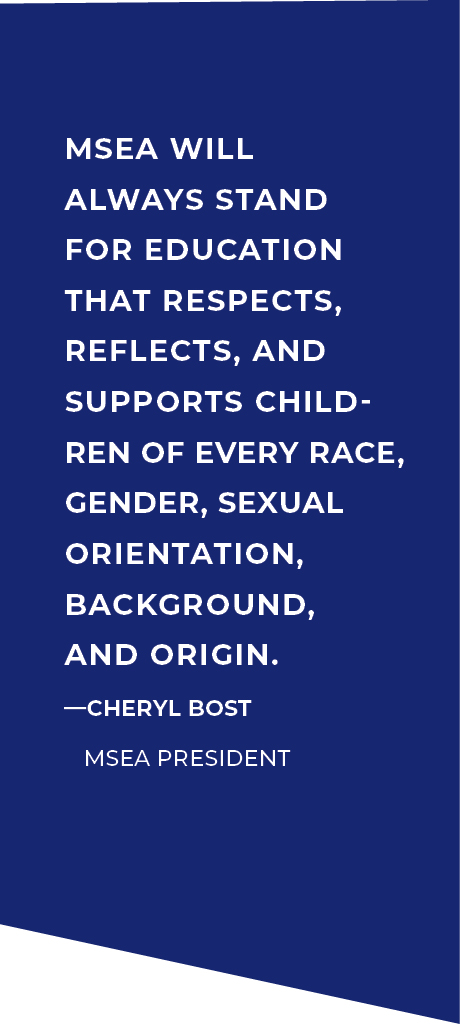 The MSEA has addressed this issue of fairness and equity for many years. For too long, Maryland taxpayers, through the governor's annual budget, have funded private schools with discriminatory practices while public schools suffered from broken air conditioners, leaky roofs, outdated textbooks, and more.
"There is no place for discriminatory practices in schools that accept public funding. Now, like all public schools, private schools that receive public funds must be held accountable for their policies and practices regarding who they admit, how they discipline, and so on. said Cheryl Bost, president of the MSEA. "Districts and private schools should post an anti-discrimination statement in their student handbook and provide all students with clear behavioral expectations and the protections they are rightfully owed."
MSEA believes in honest and fair education, which means acknowledging the racially motivated dog whistles and threats of misinformation campaigns that pit parents against educators. The General Assembly has strongly resisted several bills designed for this purpose. "It's about distraction and exclusion," Bost said.
"Some politicians and groups use this strategy to create division and chaos. We are proud of legislators who have championed public education and the right of every child to an honest and accurate education from qualified, educated professionals.
"We have the opportunity of a lifetime thanks to the Blueprint's focus on equity in education. MSEA will always champion an education that respects, reflects and supports children of all races, genders, sexual orientations, backgrounds and backgrounds.
Virtual Education
The MSEA has closely monitored bills addressing virtual learning and worked closely with lawmakers and advocates to pass bills that develop specific safeguards to support equity and ensure education high quality virtual. The Virtual Education Legislation establishes guidelines for the development and operation of virtual schools, requires the MSDE to advise on virtual learning best practices, and addresses procedures for in-person schools using virtual learning due to weather or emergency.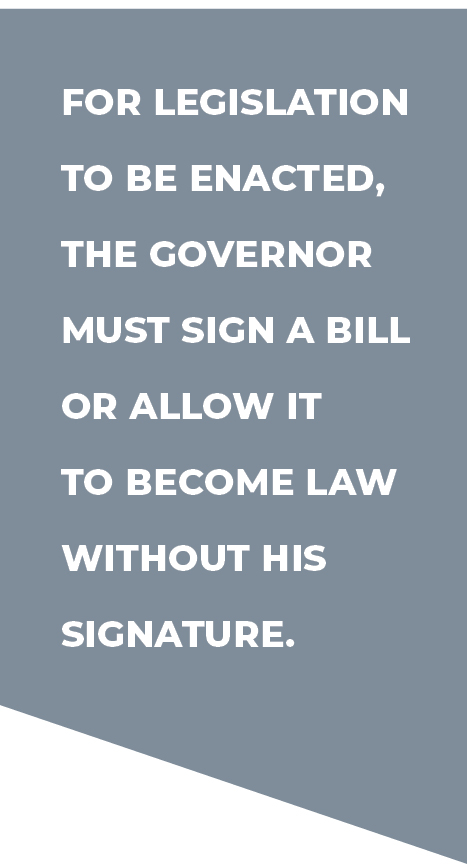 Highlights of the bill include that all virtual educators must be public school employees, that educators cannot be required to simultaneously teach students in person and online, and that students have access to services extracurricular and enveloping. The legislation also aims to ensure that staff and students have access to required technology and that the student body of virtual schools reflects the diversity of the county.
This is just the beginning of the work to ensure that students receive the education they are entitled to when virtual options are used. The MSEA will urge Governor Hogan to enact this law and monitor its implementation to determine if further improvements need to be made.
Staff shortages open the door to retirees
To help address crippling staffing shortages, we also successfully passed a bill that exempts a re-employed retired educator from the usual compensation cap, providing incentives to fill vacancies with experienced educators. This legislation applies to reuse occurring from July 1, 2022 to June 30, 2024.
Cancel your union dues!
Finally, union members like you should be aware that a bill was also passed this session to allow union dues up to $300 to be counted as a future income tax subtraction amendment.
"We've made great strides this session, and we'll continue to build on that in the future — hopefully that's with a strong, collaborative ally in the Governor's mansion," Bost said. "With our strong voice, we can offer the support, relief and resources that all of our students, educators and communities deserve."
Latest news