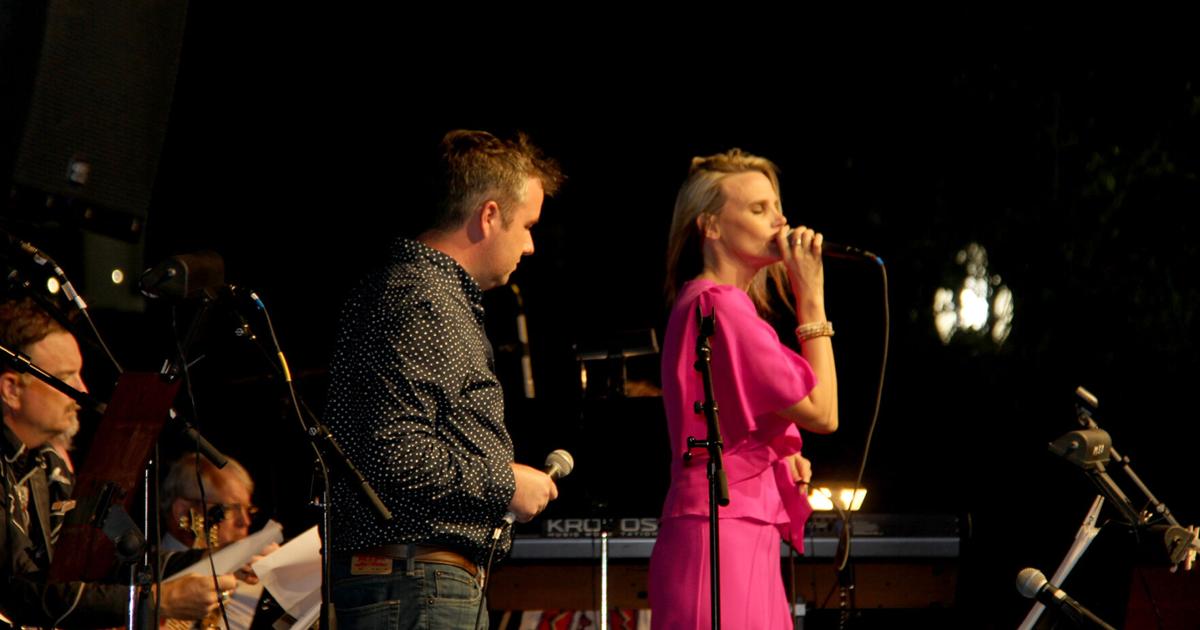 Tonight: The Voices 3.0 Concert Kicks Off in Downtown Marshall | Events
Eleven local singers have been named winners of the Marshall Symphony Orchestra's annual Voices 3.0 competition and will perform with the orchestra tonight.
The Voices 3.0 concert will begin Saturday at 8 p.m. outside the Harrison County Courthouse in the east side parking lot.
Food will be available for sale at Saturday's event beginning at 6:30 p.m., with catering service by La Taquiera and Lee Lee's Catering.
Tickets for the annual show are already on sale for $30 in advance and $35 at the door. An additional student discount is also available. Community members can purchase tickets by visiting www.marshallsymphony.com.
Winners featured on Saturday include:
Crispy Joe Buck resides in Marshall and is originally from East Texas. He is the general manager of KMHT Radio and works as an agent with the oldest insurance agency in East Texas, Brownrigg Insurance. He believes he has a passion for helping people and working to improve the lives of others that comes from a strong family work ethic where his father always involved all six children in the family businesses. Joe Buck graduated from East Texas Baptist University with a Bachelor of Science in Business Administration and a minor in Religion. He was an active member of choirs and pop groups throughout college and worked hard to successfully fund his education through these organizations, as well as travel and record with a successful gospel trio. Joe has been married for 19 years, has three children, and is actively involved in his church as a worship leader before the service. You can hear Joe Buck daily as host of "The Talk of East Texas" on KMHT 103.9 FM. Joe Buck was a finalist for Voices 2020.
Chase Dawson is from Carthage and is married to Peyton West Dawson of Marshall. They have a baby boy named Daxton Beau Dawson, soon to be big brother to Lillie Mae Dawson, due in August. Growing up in a musical family, Chase's love for music began at an early age. Every Sunday after church there were always guitars drawn with good music played and family songs accompanied by a beautiful harmony. Music has become more important in her life over the past eight years. Chase has been the lead singer of the Carthage-based country and Southern Texas rock band "Southern Impact" for seven years. He is very involved in all the activities of the Texas Country Music Hall of Fame, also in Carthage, in addition to being president of what he likes to call his baby, the Country Music Hayride. The Hayride manages and preserves the historic 1949 Esquire Theater located in downtown Carthage. Music keeps him very busy, and he likes it because it keeps him out of trouble.
Caitlin Drennan is from Gilmer and is 16 years old. She likes to sing all genres of songs but considers country and western her favorites. Earlier this year, she was selected to sing with the National FFA Chorus in Indianapolis and had the opportunity to sing a solo for the 60,000 people in attendance. Saturdays in the spring and fall, her mornings are spent at Miracle League Baseball games, where she performs the national anthem, and next month she will sing the national anthem at the Gladewater Rodeo. She recently began singing with a worship team for 'The Gathering', a contemporary service for First United Methodist Church in Gilmer and in June will perform at a Gladewater Opry reunion, where she has been a regular performer. Caitlin can't wait to sing with the Marshall Symphony!
Karinthia Fradella is 24 years old and was born and raised in Marshall. She always had a love for music but never pursued her love until she was 17 when she auditioned for "American Idol." At the age of 20, she auditioned for "The Voice". Karinthia started singing at the Legends Social Club in Marshall to become more comfortable singing in front of a crowd. Her close friend, Miriam Black, a local singer and karaoke DJ, became her friend and mentor shortly after her first performance at Legends. Karinthia said, "Miriam believed in me when I didn't, and I wouldn't be here right now if it wasn't for her." Recently, she auditioned again for American Idol. She said she would continue to audition for American Idol until she got to Hollywood. Karinthia works at Blue Cross Blue Shield but is very determined to have a music career in the future.
Tim Goff lives in Linden and works at GG's Antiques in Jefferson. He has been singing since age 6 in church plays and musicals at the Life Tabernacle in Houston. Tim has previously sung in a school and church choir. He is known for singing at work, entertaining and – according to him – sometimes annoying his clients. He has always loved music in many forms and genres. Tim loves karaoke goofy songs to make his audience laugh. He also loves pointless random facts, trivia, and corny jokes.
Missy Monroe comes from Carthage. She and her husband Brian have been married for 21 years and own Monroe Brothers Paint & Body Shop in Carthage. Together they share four children and four grandchildren. She and her husband are members of the group Dusty Boots and perform a monthly show at the Esquire in downtown Carthage on the second Saturday of each month. Missy makes her third appearance in Voices 3.0.
Mary Lynne O'Neal was born and raised in Marshall, and she is the daughter of retired DPS soldier David O'Neal and Lynn O'Neal. Mary Lynne has been singing since the age of 4 and caught the radio bug at 17 working for KMHT. She landed a college internship working for the Big D & Bubba morning show in Nashville and stayed in Nashville for 12 years, singing in a few local bands and working for Cold River Records and Foundry Records. In December 2020, Mary Lynne returned home to Marshall and began working at the new radio station, 92.3 The Depot. Mary Lynne hosts the afternoon show on 92.3 The Depot as "Hometown Girl" Monday through Friday from 3-7 p.m. Mary Lynne also works as an event coordinator for Bear Creek Smokehouse and is a member of the Marshall Main Street Advisory Board, the Marshall Elks Lodge and the Grand Marshall Chamber of Commerce Ambassadors.
Laura Perry has lived in Marshall for 27 years. She and her husband Russ have been married for 45 years. They have two adult children and five grandsons. Laura works at the Red Poppy Salon and Day Spa in Marshall as a receptionist. Laura started singing when she was in fourth grade on her radio on her back porch. His favorite part was harmonizing with the background vocals. She has performed extensively in East Texas and has a long history with theater and music. Laura studied Musical Theater and Acting at Tarrant County College and served as Vice President of Piney Woods Theater in Marshall. Laura starred as Diamond Bessie in Jefferson for 10 years and was the Costume Guild Master of the Longview Community Theater for five years. Recently, she has participated in fundraisers for ArtsView Children's Theater and CASA East Texas. While in Dallas, she provided vocals and studio voiceover for 10 years. Laura is very excited and honored to be part of Marshall Symphony Orchestra Voices 3.0 this year.
Quinn wonders is from Flint, Michigan and has lived in Marshall for seven years with her husband Jeff. This is Quinn's third appearance on Voices. She has acted in many productions and has loved singing and dancing since a young age. She sang all her life and always found music to be the best medicine. Quinn shares that singing with the orchestra and all the great singers has been a great experience!
Tori Wells is 16 years old and lives in Waskom. She has been singing for her family and friends since she was 4 years old. Tori began singing publicly at age 10 and volunteered to sing in numerous veterans programs throughout Harrison, Panola and Gregg County. She recently sang for CASA by Caddo Parish. His love of music spans country, pop, rock, R&B, as well as musicals. Tori was a finalist for Voices 2.0 in 2021 and the John Ritter Tribute Showcase in Carthage last year.
Presley West is 15 years old and in the ninth grade at Marshall High School. She is a varsity cheerleader and a Texas Rage Allstar cheerleader. Presley studies vocal, guitar, and piano lessons weekly and performs at area festivals and Oprys. She is also enrolled in modeling and acting classes, is an honor roll student, and is the proud aunt of Daxton Dawson. Presley is making her third appearance in the Voices series and is excited to once again participate in Voices 3.0.