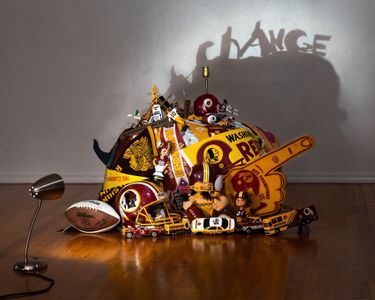 Native-Inspired Sports Team Names: Account and Change
Donick Cary wrote for David Letterman and helped produce the Emmy-winning film The simpsons and Parks and recreation. So how could a funny guy like him tackle the sensitive topics of racism and Native American representation in a documentary film?
Cary ('88) was born in Washington, DC and grew up watching Washington Redskins football games with his father. When he and his wife bought their house, he turned the shed into his playroom. He installed three televisions and lined the walls with memorabilia bearing the team's name and Native American-inspired logo. Then, during a game four years ago, his eight-year-old son, Otis, asked, "Dad, isn't that racist?"
A difficult conversation ensued, and then Cary and his son decided to educate themselves. They set out to interview people across the country about what it means to be a Native American today and how the team name had affected them. Cary and his son ultimately turned the camera on themselves, and the project sparked personal judgment: Cary stripped his playroom of memorabilia, sending most of it to artist Steven Paul Judd for a special facility– and began to re-evaluate some of his comedic writing, including lines for the character Apu on The simpsons. He hopes to premiere the film, Hello Breadsticks!—whose title refers to a Parks and recreation joke (more details below) and a play on the team's old fight song – at a festival in 2022.
Tyler Davis ('20, COM'22) assisted Cary on the documentary, work remotely from Boston to help project footage, organize and edit notes, and work with the film's editors and producers. "It was great having the next generation of BU filmmakers to help us organize and plot our path to a finished film," Cary says.
Since Cary and his son began their film, Washington dropped its name – becoming, for the past two seasons, Washington's generic football team before announcing a permanent name in February 2022: the Washington Commanders; Major League Baseball's Cleveland Indians are following suit and will debut as Guardians in 2022. But hundreds of professional, college and high school teams continue to use Native-inspired names. As the Atlanta Braves played their way to a World Series championship – with their tomahawk fans chop in the stands—Cary spoke with college student to learn from those most hurt by these representations.
college student: How did you become a Washington Commanders fan and what does fandom mean to you?
Donick Cary: I was born in Washington, DC, in 1968. My father had grown up there as well as my grandfather. The team has always been part of their lives. My parents were divorced, so I would get together with my dad and watch the game. It may seem too big, but football was like a religion to us. Games are on Sundays, you sit down, you hang out, you bond. It was a real family bond.
When did you start questioning the name of the team?
I'm now passing that love and connection on to my son, Otis, and we were watching a game and he said, "Dad, isn't that racist?" And I started saying all the things that I was programmed to do, all those PR things. It is very difficult to question the things you love.
The first thing we did [for the film] was talking to a group of people from Athabaskan, Alaska. I was like, "I bet they don't even care or know about a football team in Washington." And we sat down, and one of them said, "This is America, you can say whatever you want." I'm aboriginal and, in fact, I love this team. And then the other people on the panel threw themselves at him. Each had a different example of how it really affected them. One of their children went to a school with an aboriginal mascot and had to watch games where people dressed up. They felt invisible to their communities.
I don't use the R-word anymore. To a lot of people we spoke to, it sounds a lot like the N-word.
How did you two report this story?
We have these cute little lens attachments that you can screw onto an iPhone, and I have an audio kit. Alaska was the first experience. It led to 100 adventures, which is part of what life is all about. I permanently took Otis out of school a few times. I hope he's doing better. I think it will be. I am, definitely.
We didn't really know what the story was. We did 100 interviews, we went to Congress and met [United States Secretary of the Interior] Deb Haaland, we met former footballers. And while we were doing that, we started putting together this story that was about us and having these revelations, and then eventually changing our playroom.
Then there was a pandemic, and George Floyd, and suddenly the conversation we had for three or four years became a national conversation. Over the course of a few weeks, Aunt Jemima dropped her name, Eskimo Pie dropped her name, Uncle Ben dropped her name. And at the end of that run, FedEx threatened to withdraw funding from FedEx Field, where the team plays. And then the team dropped its name.
You have ventured outside the sports world in your reporting, why?
When you explore it in a sports bubble, it's very hard to feel like you have to change anything. You think, "We've been the Chiefs forever. Why would we ever change? Your overwhelming impression is that it's generally OK and there are a few people complaining about it on the fringes. But once you talk to some of the six million Native Americans who live in the country today and ask them, "How does it feel to you to see a Monday night football game where people are dressed in red headdresses and makeup and say what, to you, does the N-word sound like? He then becomes: "What am I doing?" What am I hooked on?
I wrote for the [Simpsons] Apu character for years. And while we were making this documentary, a comedian named Hari Kondabolu released a documentary called The problem with Apu. There have been so many harsh reactions towards Hari – he has received death threats from fans and The simpsons had what sounded like a very tone-deaf response. So I called Hank Azaria [then the voice of Apu] and told him about what it was like to find a blind spot. How do you overcome the initial defensiveness and start listening, learning, changing? He realized how much of a caricature Apu was and how it affected Southeast Asian children who were teased.
You are best known for your comedy, is there room for humor in this subject?
As a filmmaker, this is essential. The only way I've found you can have a rational conversation about things that make you very uncomfortable is with a little humor. If we just explain the 100 ways we've been told it's related to the genocide and the horrific stories that we've hidden for years in our culture, I don't think a lot of people want to listen to that. And if we don't laugh together, we're not going to talk about anything, and we're going to choose sides and be divided.
"I realized I wasn't thinking of inviting Native Americans into our playroom full of R stuff. That would be crazy. It's like we have Confederate flags just because we like The Dukes of Hazard and said, "We're not into white supremacy – we just love the toys on the show!" But these toys represent something much bigger and more disturbing.
How has this project influenced your relationship to sport?
The NFL is something I love so much, but there's a lot I've had to forgive or look away from. Brain scans are bad. Black players kneel down saying, "Look at how we are perceived in the culture and how we are treated by the police. What I cling to is that with platforms like the NFL, you can potentially make a difference in communities that otherwise might not listen. As responsible sports fans, let's go. Let's talk about it.
And I realized that I don't think I would invite Native Americans into our playroom full of R stuff. That would be crazy. It's like we got confederate flags just because we like The Dukes of Hazard and said, "We're not into white supremacy – we just love the toys on the show!" But these toys represent something much bigger and more disturbing. So we started making those connections.
What would you say to fans who resist giving out the names of their professional or school teams?
Open up to listening to the other side. Often you are fighting over something that is very important to you, but could affect someone else in a much bigger way. Be open to their perspective. And we cling to things for life, but when things change, it's actually usually very easy. It wasn't so bad when the team finally dropped its name. A lot of people were crazy about it, but it's not life or death. We still have a team to support in Washington. It's a pretty good lesson.
What should the new name of the Washington football team be?*
The last season of Parks and recreation was set a year in the future, and they were in Washington, and we wrote a joke where someone said, "Hey, anybody wanna go to the Breadsticks game?" The backstory, which we talked about in the writers room, was that the team was sold to Olive Garden and rebranded as Breadsticks. So if I had my druthers, I'd say it's the Breadsticks. It will go well with our film.
*This interview has been edited for clarity and brevity, and was done before the team decided on their new permanent name.