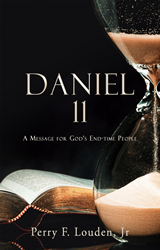 Inspiring Bible Commentary on Daniel's Prophecies
I have always enjoyed reading the narrative sections of the book of Daniel.

BRADYVILLE, TN (PRWEB)
March 14, 2022
Author Perry F. Louden, Jr offers readers insightful insight that follows well-established Adventist principles of interpretation in Daniel 11: A Message for God's People at the End Times ($25.49, paperback , 9781662844454; $9.99, eBook, 9781662844461).
Louden explores Daniel 11 in a refreshing way, known to be one of the most fascinating chapters in the Bible. It offers a logical, instructive, and chronological new view of Daniel 11. This includes its kings of the north and south, its descriptive battle scenes, and the mysterious Prince of the Covenant at the heart of the chapter. Using Daniel 2 as a model and adding the prophecies of Daniel 7-9, a picture emerges in Daniel 11 that has great implications for the world today.
When asked what inspired him to write this book, Louden said, "I've always enjoyed reading the narrative sections of Daniel's book."
Perry F. Louden, Jr. is an avid scholar of religion and history. He studied Christian Studies at Lipscomb University in Nashville, Tennessee, where he earned a Master of Arts. In 2019, Louden earned a doctorate in literacy from Middle Tennessee State University. He currently teaches reading enrichment and professional studies. Louden also spent 20 years on the American Reserve Amy, serving in Desert Storm as a POW camp guard and in Iraqi Freedom as a military police team leader. He is an active member of the local VFW and has a knack for solving difficult puzzles. He and his wife live in Bradyville, Tennessee, where he serves as an elder in his church.
###
Xulon Press, a division of Salem Media Group, is the largest Christian self-publisher in the world, with more than 15,000 titles published to date. Daniel 11: A Message for God's End Time People is available online at xulonpress.com/bookstore, amazon.com, and barnesandnoble.com.
Share the article on social networks or by e-mail: