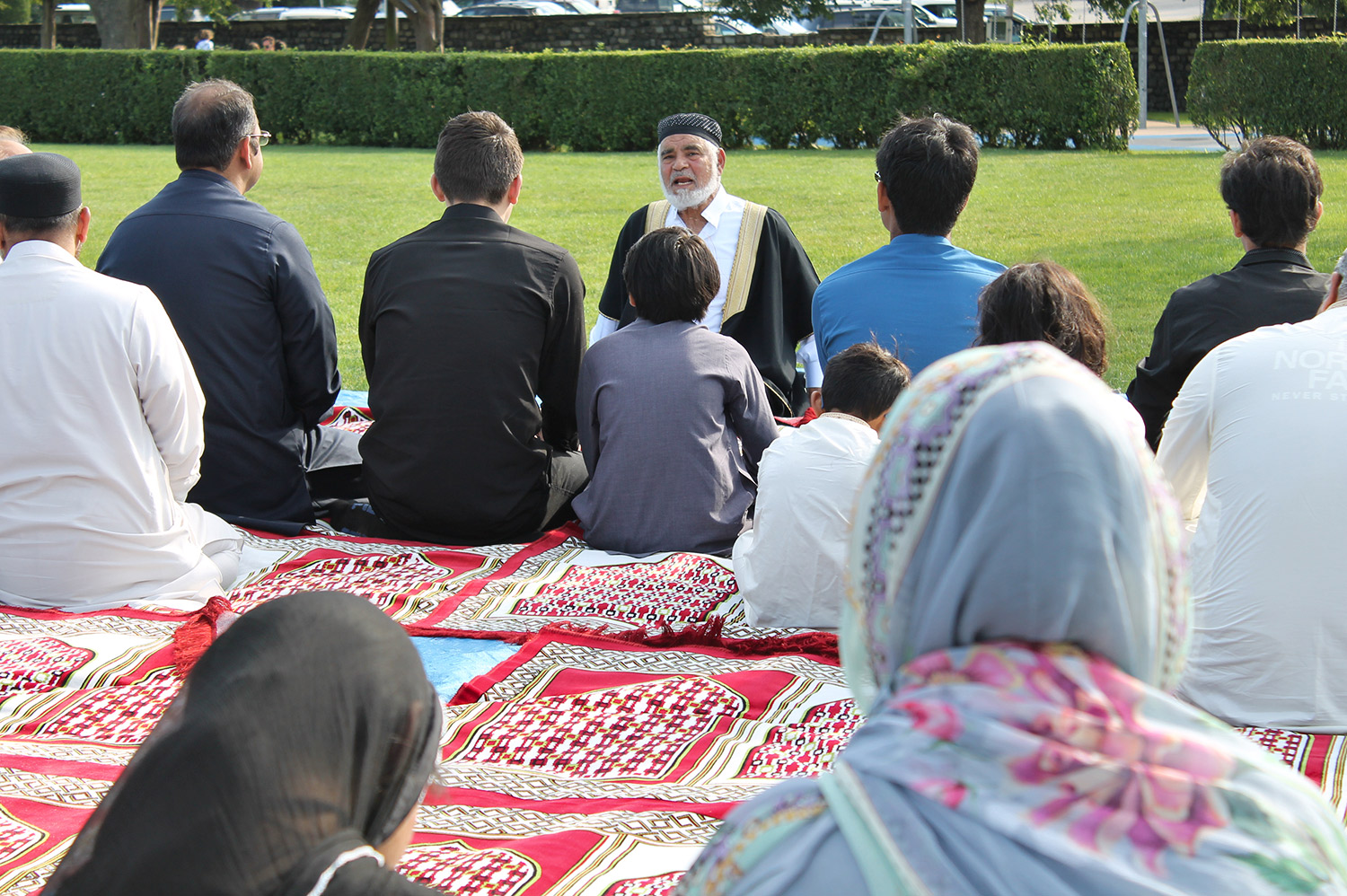 East End's growing Islamic community finds a way
Eid al-Adha celebration a first for East End; "happiness has arrived", says the imam
Imam Ahmed Essam Ibrahim traveled to the village of Southampton from St. James for a public Eid al-Adha celebration with the Islamic Center of the Hamptons at Agawam Park on July 9.
A public celebration of Eid al-Adha, a holiday marking the end of the lunar year and the time of pilgrimage in Islam, drew at least 70 Muslims for the first time to Agawam Park from near and far – the East End, Central Suffolk, New York, Miami, Dubai and even a family who had just got off a plane from Nepal the day before.
On a bright and sunny Saturday morning, the Imam, Ahmed Essam Ibrahim, who had traveled from St. James, led prayers and delivered a lively speech on the holiday. It honors the will of the Islamic prophet Ibrahim to sacrifice his son at the command of Allah – a sacrifice that did not happen, as Allah then provided Ibrahim with a lamb to slaughter instead. Eid is the time when, if possible, Muslims make the pilgrimage to Mecca – one of the five pillars of Islam.
The July 9 celebration was organized by the Islamic Center of the Hamptons, a relatively new community of Muslims who come together for prayers and ceremonies. Once a small collective that began gathering in people's homes, the group now meets at the Unitarian Universalist Congregation of the South Fork in Bridgehampton on Friday evenings and holidays.
The group was formed a few years ago when Dr. Asma Rashid of Southampton, whose practice is Hamptons Boutique Medicine, realized that Muslims here had often traveled far – St. James, Selden, Ronkonkoma, Huntington – to practice their religion. She and her husband, Dr. James Groff, a trauma surgeon, were new parents who wanted to raise their children in the Islamic faith.
"Why do we have to drive for an hour to say our prayers? Why can't we have something here? said Dr. Rashid in an interview. "Waking up as a new parent, we started scrambling to create something. We located a few other families who were nearby – newcomers to town and people who have been here for years. . . . There is a community, there just had to be someone to animate it.
Now, Islamic centers everywhere take turns sending their leaders to Bridgehampton. Companies such as Gurney's give their Muslim employees time off for prayer. Future plans include regular Koranic studies. The group is grateful to the Unitarian congregation for opening its doors to them, starting with an interfaith iftar in April this year at the end of Ramadan, a holiday for which Muslims fast for a month.
Dr. Rashid said there was a clear way forward for the Islamic Center of the Hamptons, starting with the simple question she asked aloud, "How do we get there?"
"I wasn't raised to believe in a limit," she said. "I was raised to know there are possibilities – just talk and ask. All you have to do is educate people about your similarities and differences. We don't see race , color or religion, we just see peace, harmony and get along.
The Imam himself, for whom the July 9 celebration was his first time in Southampton, was pleasantly surprised to see so many people attending. He was expecting maybe 15 to 20. "They really showed up, and really, really did it with passion, showing that we're proud to be Muslims in America," he said. "Happiness happened – it really touched me. I didn't expect it, but I found it.
Then there was the food – a traditional brunch consisting of savory, spicy and sweet dishes. Dr. Rashid's father, Abdul Rashid, who is a private chef in Miami, and Salim Khan, an upscale chef who lives in Dubai, cooked it themselves. Later, after the celebration at the park ended, many went to a farm in Manorville that raises cattle specifically to meet the dietary needs of certain religions. There, a lamb was sacrificed according to the tradition of Eid al-Adha. Its meat was then shared among family members and donated to charitable causes for the benefit of the poor.
Dr. Rashid pointed out that there are many similarities between Islam and other Abrahamic religions, Christianity and Judaism. "All of these stories are all the same – parts of the Old Testament, New Testament, Last Testament."
Dr. Cean Mahmud of Yaphank, a physician at Northwell Health, said public celebrations like Eid become a way to get involved in the community and interact with people of other faiths.
"There is a growing community of Muslims on eastern Long Island," he said. "It's a stepping stone, and as the imam said, the first Eid celebration in the Hamptons is the first of many, and we're happy to be a part of it."